Award winning Australian Tiny House Experts / Architectural company Brisbane / Small houses designed for your lifestyle- Australia wide + Internationally
2019 BDAA NATIONAL AWARD WINNING DESIGN FOR SECONDARY DWELLING & GRANNY FLAT- AVALON BEACH

2019 BDAA QLD AWARD NNING DESIGN FOR SECONDARY DWELLING & NEW RESIDENTIAL BUILDING UP TO 250SQM

2018 BDAA NATIONAL AWARD WINNING DESIGN FOR SECONDARY DWELLING & GRANNY FLAT- SAMFORD VALLEY
At BAAHOUSE we offer a professional building design service, we'll organize all required approvals FOR YOUR PROJECT. Our TEAM OF Professional Designers AND ARCHITECT have teamed up with Brisbane's leading builders to deliver a cost effective and quality finish build. ''Simply turn the key''.
Every design is custom built / designed to suit your site, lifestyle and your budget. Our designs are unique and are tailored to every client. At BAAHOUSE we specialise in Tiny houses that will set your house apart from other. Book a 2 hour on site consultation today to get a professional onsite Design Brain Storming service about your new project in your backyard.
BOOK A 2 HOUR ONSITE design CONSULTATION - $495
Do you need help with your project? Should we renovate or build new? Can we fit a small house onto our property? Where do we start? What is your budget? What builders do we us? How long will my project take? These are just a few of the questions which you man want to know. We offer an onsite design consultation at your property for 2 hours with an Architect or designer.
What we offer: Travel to and from site, the meeting, confirming client ideas and brief, discussing client budget, onsite sketches, initial investigation regarding your site.
(*price is subject to distance from office in Brisbane)
35SQM / 1 BEDROOM DRYSDALE DESIGN
PRE-FABRICATED FROM $75,000 inc gst
Bretts Trade & BAAHOUSE
Visit our NEW Lincoln design range
2017 Award winning Lincoln 2 Bedroom design
now available in 60sqm, 80sqm, 3 bedroom + 2 storey option
WHY BUILD A SMALL HOME?
Granny flats, Tiny Houses or secondary dwellings are making a comeback in the Australian backyard due to their affordability and practicality. If you live on a block of land larger than 405sqm and need extra living space for a home office/business, young adults or elderly parents at home, building a second dwelling may be your solution.
With BAAHOUSE you can now enjoy a beautifully professional designed second dwelling that gives you versatility as well as blends in with your existing house and natural environment.
BAAHOUSE + BAASTUDIO PTY LTD is a company set up by professional designers / Architects who have the knowledge and experience in the industry to co-ordinate everything necessary to make the process stress free and built to your budget.
Small houses reduce the carbon footprint
Small houses cost less to build and maintain
Can invest more in renewable and sustainable materials.
Size and function
BAAHOUSE LINCOLN 2B/ 80sqm small house / SUNSHINE COAST
NATIONAL AWARD WINNER 2019 FOR SECONDARY DWELLING
BAAHOUSE SYDNEY CALIFORNIA RED 60sqm small house
recently completed 2019 WINS AUSTRALIAN NATIONAL DESIGN AWARD
baahouse highvale LINCOLN 1b /60SQM
recently completed 2018
INTRODUCING A NEW RANGE OF BAAHOUSE DESIGNS AND PLANS.
PLEASE CONTACT OUR OFFICE FOR ANY ENQUIRIES REGARDING THESE PROJECTS.
Introducing the new 2 Bedroom / 100sqm+ deck Hampton Style Small house / Granny Flat
INTRODUCING THE NEW 80SQM & 30SQM SOUTH DOWN DESIGN. A GREAT AFFORDABLE SOLUTION AS A 2ND DWELLING FOR YOUR BACKYARD OR EXTRA RENTAL INCOME. COMPLETE CONSTRUCTION COST FOR $200,000. VISIT THE SOUTH DOWN BAAHOUSE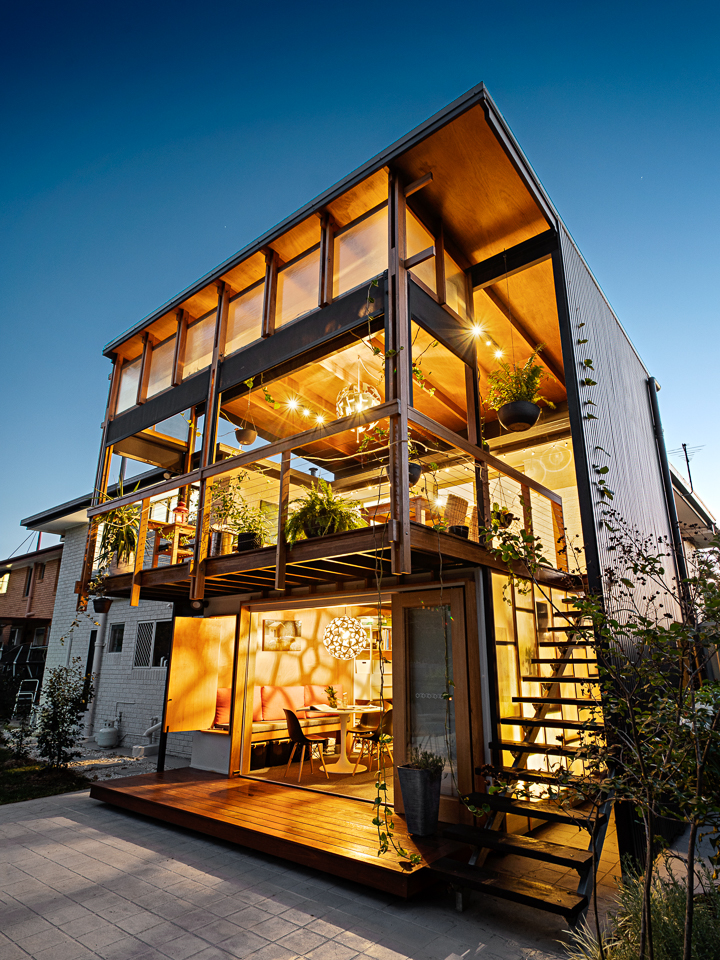 Let us help you create a fantastic indoor-outdoor multipurpose deck for your lifestyle
interior design professionals
We work closely with our clients to create spaces that will express individuality, offer flexibility and enhance the overall interior experience.
AUSTRALIA'S LARGEST RANGE OF SMALL HOUSES
Check out our range of designs starting from $73,000 or contact us today on
0409 5777 05 or E-mail info@baahouse.com.au
4 EASY STAGES TO A NEW LIVING.
Starting a new project can be a daunting task. There can be so many obstacles, conflicting advice from various people, not knowing which consultants or builders to use and how much is the project going to cost - SO LET US HELP YOU!
REQUEST A FREE BAAHOUSE-
Getting started Kit
WE CAN HELP YOU DESIGN A HOUSE FOR YOUR SITE / BUDGET + LIFESTYLE
If you have been looking at the BAAHOUSE designs and have not found a design to suit your location or backyard then we can design you a Custom house to suit your requirements and budget.
Its all about the DETAIL.
We enjoy working with timbers to create stunning details and designs
LET US HELP YOU WITH THE INTERIOR DESIGN PROCESS.
OUR INTERIOR DESIGNERS WILL GUIDE YOU THROUGH SELECTIONS AND FINISHES THAT BEST SUIT YOUR LIFESTYLE AND BUDGET
Visit our New 1 bedroom 45sqm+mezz+deck design - MARCO POLO
''This house incorporates the outside world and has an airy feeling above the untouched landscape. It feels less "invasive" on the natural world. I love its simplicity. - Houzz
''Fantastic detailing transition from exterior to interior''
''30 Sights to make you proud to be an an Australian- Houzz.''
'' Thanks Claus from Baahouse, your design on our granny house (downsizing not downgrading) is amazing. Everything is just perfect. Your ideas are exactly what we wanted and your interpreted our ethos and needs perfectly. Thanks also to Kirby and Dan from Saunders Building for your craftsmanship on this project.
''I love the design concept.''
Brilliant!
''The modern look''
''Small and gorgeous''
''Love the granny flat''
''Awesome use of space''
''Good for humid climate''
''Cool''
''Want to gather Idea from this house''
''Beach house''
''Everything''